5 Medium Length Hairstyles
---
Growing your hair out, needing a trim, or getting ready to chop it off to a medium length hairstyle means that you need to find a hairstyle you like. Looking for hairstyles is not always an easy task, with so many different options for hair, it is no longer between 1 or 2 hairstyles, we have hundreds of different styles that elaborate on different features. Perhaps you are looking for medium length hairstyles to frame your face, convey attitude, or slim your face. No matter what kind of hairstyle you are looking for, there are several options below for you to look at. Whether a hairstyle below is the right one for you or gives you an idea of where to start, scroll on down and look at the mean different styles that have become more popular this year.
Medium Length Hairstyle That Suit Your Face
A medium length hairstyle with this much body helps to slim a face and bring out the features of a face, without bringing out the fullness in cheeks. Although, it is more recommended to add layers and ruffle your hair if you have thicker hair, adding this type of texture to any hairstyle will give it body and character.
One of the easiest things to add to any medium length hairstyle is fringe. Although many hesitate to add fringe to a hairstyle, as to not end up looking like a schoolgirl or baby version of themselves, the right fringe to any hairstyle can create a more classy and elegant look when done correctly.
When we begin looking for a change, we often look for a simple one–adding curls to hair, is often the easiest change that can be made. Whether you decide to use curlers, braids, a curling iron, or a no heat method to get curls. there are many ways to add gorgeous curls to medium length hair. Softer curls are especially helpful with thinner hair to create body and volume in the hair.
Vintage hairstyles are a masterpiece that creates a unique beauty and draws attention to the finest details. If you are able to style the hair effectively, you can create an elegant and romantic look.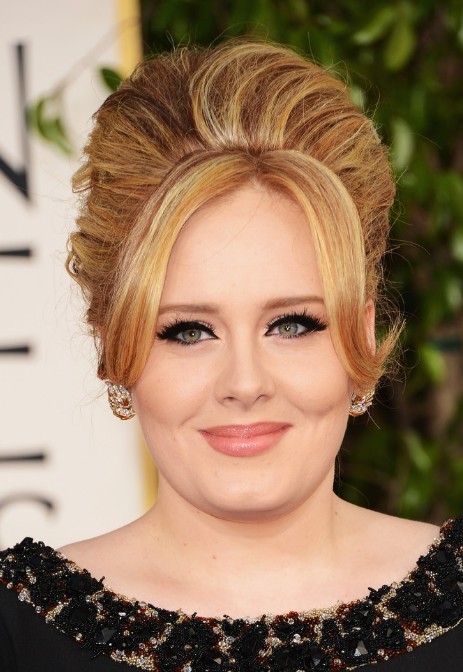 When thinking about a vintage hairstyle, the first hairstyle that may come to mind is the beautiful beehive hairstyle. The elegance and volume that is brought from the hairstyle creates a one-of-a-kind masterpiece. Although many hairstyles have been inspired by the beehive, none can compare to the beauty that is brought out from a gorgeous classic.
Medium length hairstyles are often regarded as a place to be stuck, not quite long enough to do fancy, beautiful hairstyles however, not short enough to spike, as you can see, this is not the case. Many unique hairstyles have been created by women with medium length hair. One of these hairstyles may appeal to you or you may be looking for something completely different however, by looking at the hairstyles featured above, you are now able to move forward with an idea of what you would like. Now it's time to find the right one, if you haven't already, and schedule an appointment to bring that beautiful masterpiece to life, from paper to your head.
If you enjoyed reading this article about 5 Medium Length Hairstyles then try these out here: