10 Hottest Celebrity Hairstyles with Bangs
---
We are telling you a secret: hairstyles with bangs are back in vogue world this season. Don't you believe? Look around, and you'll discover a big number of our hot babes from H-Town, whether they have straight, curly, wavy, or something else, there's a flattering fringe working well over their head. So, to provide you some quick and quality inspirations, we went nowhere but straight to their hairstylists and listed 10 hottest celebrity hairstyles with bangs. Of course, for inspirations.
Hottest Celebrity Hairstyles with Bangs: Taylor Swift's Blunt Bangs
We know this is not the first time we are starting with Taylor Swift, her blunt hairstyle with bangs is sure worth nothing less. Her blunt, straight-across bangs look just can easily be an ideal match on oval facial shapes. Bigger things is: usually this sort of style with tons of creativity and super structure needs big and frequent maintenance, but this sexy hairstyle falls opposite way.
SEE ALSO: Top 10 Hairstyles that Make You Look Younger
Lily Allen's Super-Glossy Hairstyle with Bangs
This super-glossy haircut with full fat defined bangs of Lily Allen scream loads of attention, and if you want hair girl to do something unique on your next date, suggest her to go for this flattering look.
Emma Stone's Feathery Bangs
Emma Stone's distinctive layered feathery hairstyle with bangs can make an instant oomph to any hair type, but just make sure you use a sufficient amount of hairspray.
Edie Campbell's Mullet Haircut With Bangs
Mullet definitely has become quite a rare entity in hairstyle world, but heats off for mullet with a fusion of choppy bangs is certainly a cool option to copy isn't it?
Jessica Alba Brunette Bangs
Bang Bang! The American super celeb, Jessica Alba got bangs into her brunette hairs, and without any doubt she looks tremendous.
Kim Kardashian's Full Bangs
Full bangs are in trend now, and much of the credit goes to our hot and sizzling Kim, and we're completely obsessed with the way she does it. It looks tricky but still needs to be given a try.
Reese Witherspoon's Sunny Blonde
Another way to sum up a swift sensation to your long hairs, is to go blonde and add a soft set of bangs, a la Reese Witherspoon's sunny blonde fringe haircut. We adore this gorgeous avatar of Reese.
Michelle Obama's Rounded Bangs
Mrs. President's rounded bangs are indeed a hot topic amidst hairstyle enthusiasts across the globe.  But, all what we have to say about it is that we are completely in love the way her bang falls at eyelash height and extends past her cheekbones giving her a stylish yet defined loo.
Lily Collins' Peek-a-Boo Bangs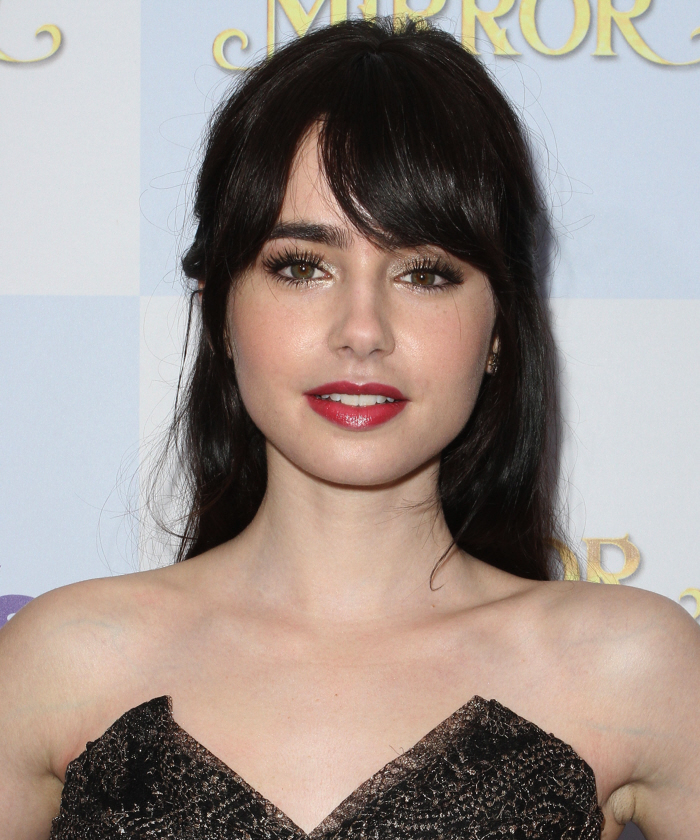 We have already said a lot about peak-a-boo hairstyles, and when you go for a full fringe over it, it will actually give you a playful, antique though modern appearance. Yes, exactly like Lily Collins.
Michelle Williams' Pixie Cut Bangs
You can't afford missing Michelle Williams' fine  cropped pixie cut with bangs, especially while talking about nothing but bangs. Her sweeping bangs style along the both sides of hr locks provide her an unbeatable, glamorous look, and no one can deny it.
You enjoyed this article? Please take a moment and share your views about this article with us by commenting blow. You can even share your own hairstyle story and ideas with us.